How to Install Vine Script using GTM
You can install the Vine script using the following preferred methods:
However, if in your scenario the methods above do not work then you can use Google Tag Manager to install the Vine script.
Please note that users can configure their adblockers to remove tracking scripts added by GTM and, thus, break most of the Vine functionality.
Step I. Adding your site and copying your unique Vine script in Vine MA
Go to the Tracked domains pane in Web Site -> Settings and click Add Domain.
Enter the web address of the site you want to add:
Click Continue, then select We maintain the site ourselves and make sure Other is selected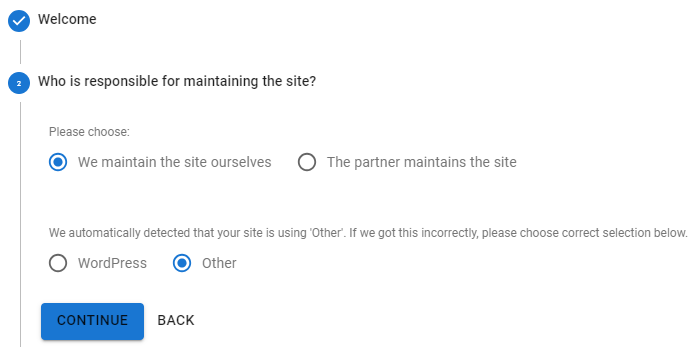 Click Continue and then verify if your site does not set cookies without the user permission. (The site will have to be fixed if it does.)

Click Continue and then enable the Vine consent dialog if you want to. (This is recommended.)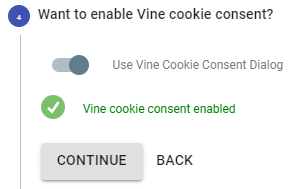 Click Continue and then click Copy to add the Vine script to the Windows Clipboard.

Now go to your GTM account.
Step II. In GTM:
First, you need to create a trigger that will activate when any of your web pages is opened:
In your workspace, please select Triggers in the left side menu and click New.
Give the trigger a name, for example: all pages
Select Page View as the trigger type
Select the trigger to fire on All Page Views
Your trigger should look as follows:

Click Save to create the trigger.
Now, you need to create a tag adding the tracking code.
Please select Tags in the left side menu and click New.
Give the tag a name, for example: "Vine tracking code"
Select tag type: Custom HTML
Click inside the HTML pane and paste the code you copied in Vine MA earlier (for example, by pressing CTRL-V).
Select all pages as a firing trigger.
Your tag should look as follows: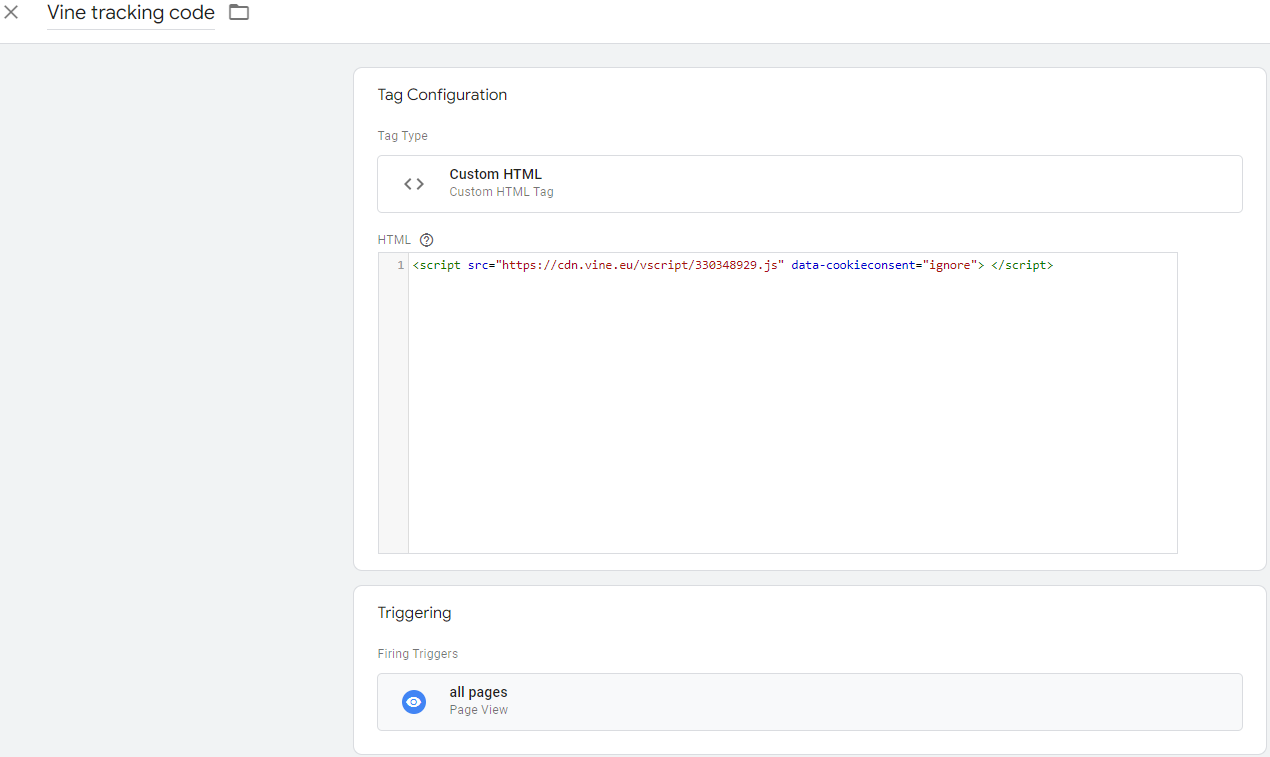 Click Save to create the tag. Publish and test in GTM that the tag gets fired properly.
Step III. Finalizing and Verifying Script in Vine MA
Return to the Add tracked domain wizard you left at the first step and click Continue at the Vine script installation step.
If the Vine script now installed correctly, you should be automatically transferred to the next step:

Verify if the GDPR check is now ok and click Continue. If you see that all the checks have green check-marks then you have added the domain successfully.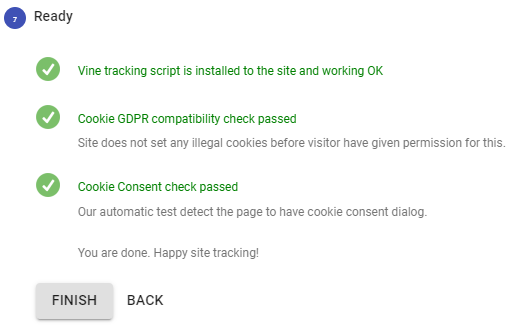 Next you need to configure the Vine Cookie Consent dialog. Or, if you plan to use a third party consent dialog, then you should set it up working with Vine cookies using GTM.