Tracked Domains
In a future version of Vine Marketing Automation, Vine will limit tracking only to domains specified by you. You will no longer need to worry about some pages on the internet spoiling your statistics by copying the tracking code from legitimate pages in your domains.
To prepare for this, please use the Tracked Domains pane to list domains you want Vine to track:

Tracking
To enable Vine tracking you need to add Vine code to your web pages.
You can install the Vine script using the following preferred methods:
If in your scenario the methods above do not work then you can use Google Tag Manager to install Vine tracking.
Verify Tracking
Use the address of your web site to check if the script is installed correctly. You need to have opened at least one page at your site for this check to work. In addition, you can check individual pages by entering their full web addresses.
Please note that a warning banner will be shown when there is no visits to your tracked web pages:

Filtering Tracked Pages and URL Parameters
In the Do not track these pages pane, you can:
List pages which you do not want to be tracked.
Specify which URL parameter values you want to be removed from tracked page URLs.
Page Score Settings
You can set a page score for each page type: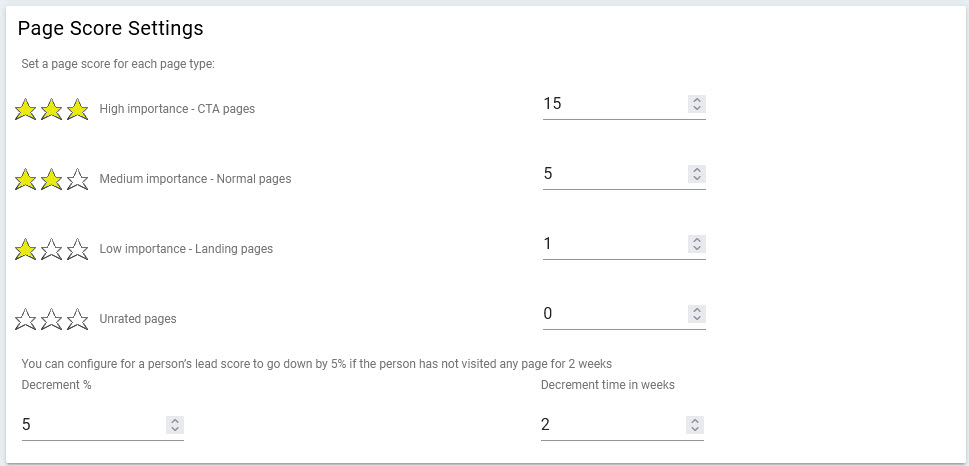 Setting Points Decrement Settings
A person's lead score goes up after each page visit but you can configure for the score to go down if a person has not been visiting any pages for some time:
Set the lead score decrement value in percentages in the Decrement % field and set the inactivity time in weeks after which you want to apply this decrement in the Decrement time in weeks field.