Configuring Form Settings
Click Settings to configure the main form settings.
Adding an Automation Rule
Often you want to use an automation which starts when your form is submitted. For this, the automation rule must have the Form Submitted trigger. The Automation Rules list shows all rules which include the Form Submitted trigger for this form.
To edit a listed rule, click

next to it.
If you want to create a new automation rule then please click Create New Automation.
Send Form by Email
Select Send Form by Email if you want to send the form by email when the form is submitted.

Register person to Event
Select Register person to Event if you want the user to be able to register for an event. The events available for registration are listed in the Open events pane in the Events page.

Google Analytics
Select Google Analytics to add event tracking Category and Action.

LinkedIn
Select LinkedIn to use event-specific conversions in LinkedIn Campaigns to track when the form is submitted.

Do Not Track Visitors
Select Do Not Track Visitors if you want this form to be used for entering data on leads without registering the current visitor. (For example, such forms can be used by your sales person to enter data about new leads without overwriting the sales person's own data.)
Popup Form
Select Popup Form if you want the form to show up for certain visitor actions.
Map to Existing Form
If your site already uses a web form created with other tools than Vine and you want to attach this form to a Vine form then please refer to How to Map Vine Form to a Third-Party Form
Create Event with Form Data
Select Create Event with Form Data if you want to create an event with the data the user has submitted in the form.

Enter event name and folder name. If you are not sure if the folder exists you can enter a part of the folder name and hit the Tab key. You will be asked to select from a list of matching folders. If the needed folder does not exist click Create to add it.
An event like this will be created: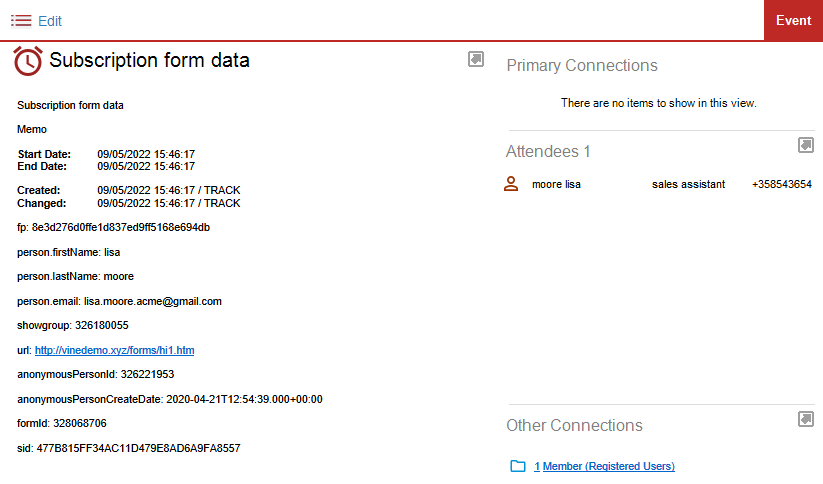 Custom Warning Messages
Select Custom Warning Messages if you want to change the text of standard warning messages shown to form users.