Field Attributes
Label
Label - Gives the field a name that will be visible on the form.

Alignment
You can align labels and fields to LEFT, CENTER, or RIGHT.
For example, here the Phone field is aligned to the left and the E-mail field is aligned to the right:

Label Appearance
Select Left to put the label to the left of the field:



Select Top to put the label above the field:



Select No Label if you do not want any label to be shown:



Show Field For:
This setting defines which tracked persons the field will be visible to: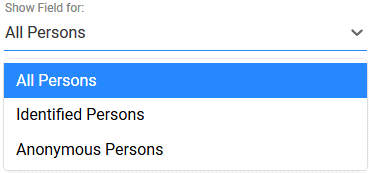 Mandatory
The form user has to fill in the mandatory fields. Mandatory fields have a red asterisk next to them


Width
Sets the width of the field.
Placeholder
In this field, you can enter text that will be visible in the field until the user types new text:

Color Settings
Use the color pickers to set the colors of text fields:

Hidden
Makes the field hidden to the form user (used for check box fields).
Text
Enter the static text visible to the user.