Configuring Email Settings
To change email settings, click Settings. The following sliding panel will open: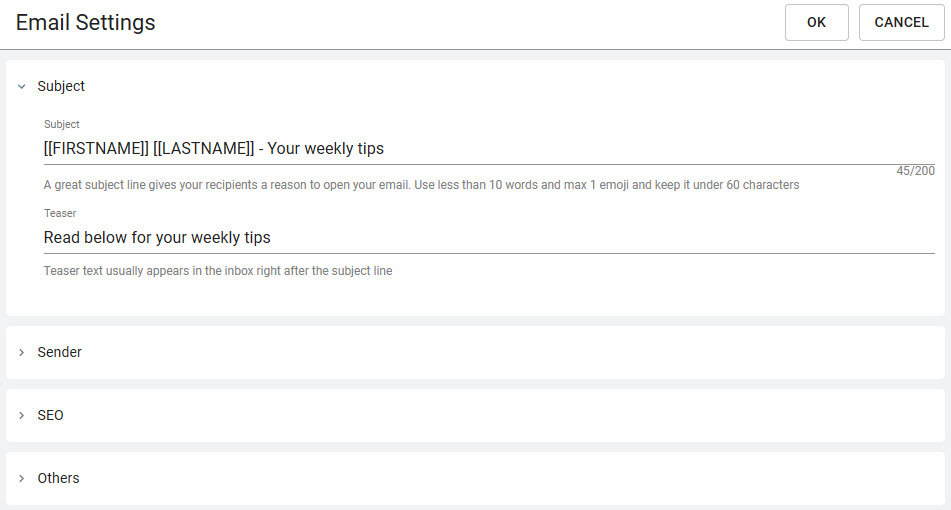 Click a pane's name to expand it and type in the needed values in the Subject / Sender / SEO and Others panes.
For the From address and Reply to address fields in the Sender pane you can also select values from the drop-down lists. The list includes your email address, the Forwarding email address and can additionally include addresses configured using special Vine system settings.
Please note that you cannot send an email if the domain of its From or Replyaddress has not been confirmed. You can confirm and configure email domains in Email->MA Settings in the left side menu.
In the Address Register field you can specify the source of target contact data for this email.
Use the Language setting in the Others pane to specify the language for standard email parts, such as, "if you cannot read this email, click here", "unsubscribe". These will be translated automatically. (By default, the language of new emails is set to that of your user interface.)
Select Use Linked Images if you want to include only links to your images and do not embed the images in email. This will reduce email size, and avoid showing images as attachments in some email clients (for example, in Android devices).
You can also set or change most of the Email settings on the final SEND EMAIL page.
Setting Teaser Text
Use the Teaser field in the Subject pane to set the text shown by email clients in email preview.

Unsubscribing
From the Unsubscribe List in the Settings, select an email list which you want the email recipients to unsubscribe from when they click the Unsubscribe link in this email.
For more information how to configure unsubscibe list please refer to Configuring Unsubscribe Links
Configuring Email SEO Settings
Expand the SEO pane to specify sharing and search engine optimization settings for the web version of your email. The web version of an email is shown, for example, when the "If you cannot read this email, click here" link is clicked in the email or the link from the Get Link dialog is opened.
The SEO emails settings are a limited version of the SEO settings for a landing page: