Using in Sales
Chatbots are becoming more and more popular because they never get tired, work 24/7, very cost effective, and can handle practically unlimited amount of conversations at the same time. Currently, they are most popular in customer support/helpdesk, marketing, sales, etc.

In sales, a chatbot can first answer typical repetitive questions which potential customers start with and then connect the new lead to a human operator.
For example, a chatbot for a tour operator can start by answering questions about the available destinations, offers, and prices. Then the bot can try to clarify the visitor preferences in more detail and suggest to prepare a custom offer based on the visitor questions and answers.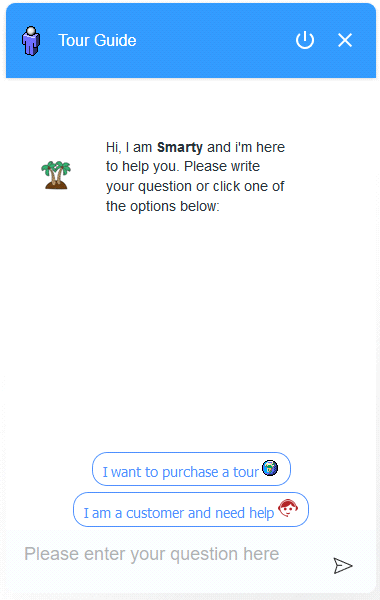 If the visitor clicks "I want to purchase a tour" then the chatbot can start narrowing down her preferences by asking if she is looking for specific destinations or types of vacation: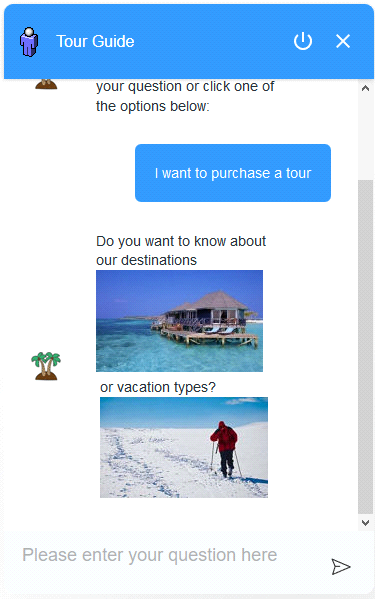 The chatbot could respond to next possible visitor questions as summarized in the following table:
| | | | |
| --- | --- | --- | --- |
| Visitor question | "vacation types" | "destinations" | "request for prices" |
| Chatbot answer | | | |
If the visitor is not a known person, then it's always a good idea to try to make the visitor register and, thus, acquire a new lead for further marketing processing: