Creating Campaigns
Click to create a new campaign.
Select a campaign template as a starting point to build on or select "Empty campaign" if you want to start from scratch.
Enter a name for the campaign and click Save.
Adding Parts
Campaign parts are its building blocks. Click the name of a campaign on the Campaigns page to open the campaign and start adding parts.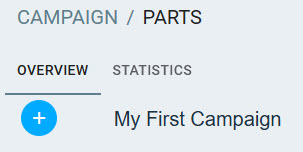 Click to add a part.
First select a part type by clicking the icon of the needed part:
Then select a needed part from the list of existing ones and click Add. If you want to create a new part then click which will take you to the respective editor.
Please note that when you add a part then all the parts it references will be loaded too (the only exception is target groups). For example, in the sample above loading a form loaded also the automation the form triggers and the email the automation sends: